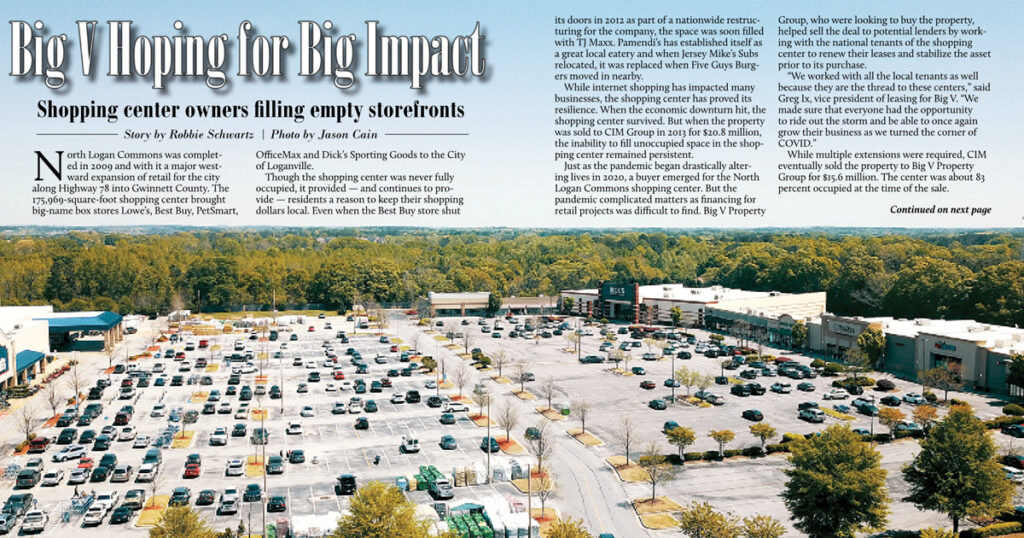 Big V Hoping for Big Impact
Shopping center owners filling empty storefronts
This article appeared in Loganville Insider, Spring/Summer 2021 Issue
Story by Robbie Schwartz
Photo by Jason Cain
North Logan Commons was completed in 2009 and with it a major westward expansion of retail fo rhte city along Highway 78 into Gwinnett County. The 175,969-square-foot shopping center brought big-name box stores Lowe's, Best Buy, PetSmart, OfficeMax and Dick's Sporting Goods to the City of Loganville.
Though the shopping center was never fully occupied, it provided - and continues to provide - residents a reason to keep their shopping dollars local/ Even when the Best Buy store shut its doors in 2012 as part of a nationwide restructuring for the company, the space was soon filled with TJ Maxx, Pamendi's has established itself as a great local eatery and when Jersey Mike's Subs relocated, it was replaced when Five Guys Burgers moved in nearby.
While internet shopping has impacted many businesses, the shopping center has proved its resilience. When the economic downturn hit, the shopping center survived. But when the property was sold to CIM Group in 2013 for $20.8 million, the inability to fill unoccupied space in the shopping center remained persistent.
Just as the pandemic began drastically altering lives in 2020, a buyer emerged for the North Logan Commons Shopping Center. But the pandemic complicated matters as financing for the retail projects was difficult to find. Big V Property Group, who were looking to buy the property, helped sell the deal to potential lenders by working with the national tenants of the shopping center to renew their leases and stabilize the asset prior to its purchase.
"We worked with all the local tenants as well because they are the thread to these centers. We made sure that everyone had the opportunity to ride out the storm and be able to once again grow their business as we turned the corner of COVID." - Greg Ix, Vice President of Leasing
While multiple extensions were required, CIM eventually sold the property to Big V Property Group for $15.6 million. The center was about 83 percent occupied at the time of the sale.
Once the deal was finalized, Big V hit the ground running. The new owners replaced all the parking lot lights with LEDs and began working with city officials on expanding the sign in front of the center. This was done in part to accommodate new tenants for the shopping center. Later this year work will be done to upgrade the landscaping and address some visibility issues.
At the center of Big V's strategy for its shopping center is creating the right mix and lease-up strategy to keep spaces occupied and tenants benefitting from one another. The goal is to have a customer come to North Logan Commons to ship a variety of stores - not just one. Part of the their initial leasing strategy focused on the need for more casual style restaurant options. Before closing on the property, Big V officials worked to get restrictions on food uses either amended or removed as part of the improved agreements with the already existing tenants.
Storefronts that remained empty for more than a decade were an issue for both the new owners and tenants, some of whom were considering not renewing their leases. But Big V Property Group brought them a level of excitement and promise that seemed to put the restless tenants at ease and ready to sign new long-term leases.
So what made the shopping center a worthwhile investment?
"We look for well-positioned real estate with good anchor tenants that have a strong online presence or have a merchandise mix that is somewhat internet resistant," Ix said. "We look in markets that are growing. We like the family-oriented nature of Loganville. North Logan has a business-friendly environment and in a growing Atlanta suburb. Lowe's Dick's Sporting Goods, PetSmart, TJ Maxx and Dollar Tree are best-in-segment retailers; We saw opportunity in leasing up the vacancies that the prior landlord didn't capitalize on for over 10 years.
"Since our purchase in mid-2020, we have leased almost 20,0000 square feet of what was vacant."
The biggest part of the newly leased space will be pOpShelf, a new concept for high-end shoppers that want discounted products in fancy shopping environment. The store brands itself as selling products similar to merchandise as Target but at lower prices. The first store opened up in January 2921 in Monroe, NC, with parent company Dollar General expected to open 30 stores before the end of the year.
Another new tenant will be Lux Beauty Supply, a local chain of beauty supply and women's fashions.
Big V officials made sure to show their appreciation for the efforts of the city in being proactive to attract new businesses to Loganville.
"When Big V buys a site, we try to become part of the community because we are," Ix said. "We own property and take pride in our ownership and the fact that we service the community. We had some concerns before buying the center, but after speaking with Mayor (Rey) Martinez and his staff, we had great comfort that our relationship with the city was going to be a positive partnership.
"If it wasn't for the foresight and actions of the mayor and the city council, our lease-ups at this point might not have been so successful."
Big V began first as Big V Supermarkets Inc., founded in 1942 by William and Viola Rosenberg with the opening of Victory Supermarket in Florida, NY. The company grew under Dick Rosenberg to encompass 34 stores and more than $800 million in revenue. The company was sold in 1987, but the family retained many of the shopping centers. Born from this was Big V Property Group, which owns centers in North Carolina, South Carolina, Tennessee, Georgia, Ohio, Kentucky, Virginia, Florida, Alabama and Texas - in addition to the original Victory Square Shopping Center in Florida, NY.
CLICK HERE TO VIEW ARTICLE MAGAZINE ON PAGE 36