Expansion into Texas continues, with the purchase of a fourth property
DALLAS, TEXAS — Big V Property Group, along with their partner Equity Street Capital, is pleased to announce their newest acquisition, Glade Parks Town Center in Dallas, Texas. Glade Parks is a best-in-class retail destination consisting of 559,457 square feet of quality shop space, represented by an exceptional lineup of national retailers.
"We are excited to continue our expansion into Texas with our first acquisition in the Dallas area, Glade Parks", said Jeffrey Rosenberg, President and CEO of Big V Property Group. "The Dallas metroplex is a dynamic growing marketplace, and this is the first of several acquisitions planned in this exciting market."
Glade Parks is located just minutes from the Dallas Fort Worth International Airport and strategically positioned on the doorstep of two of Dallas/Fort Worth's #1 and #2 highest income neighborhoods, Southlake and Colleyville. There is an impressive $8.4B of spending power within just a 5-mile radius of the property.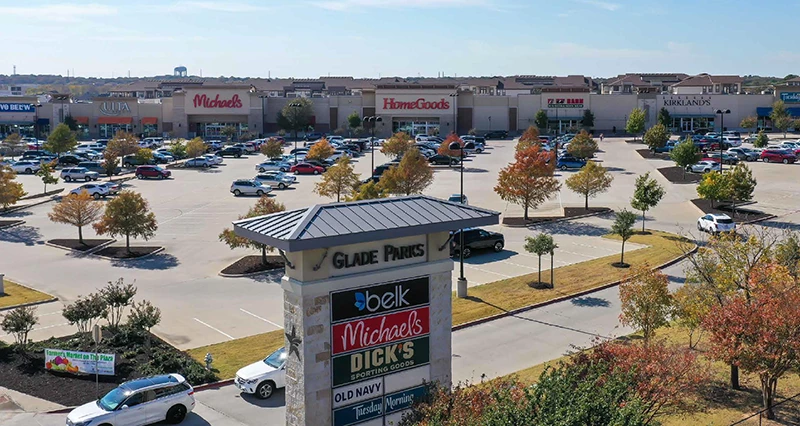 Glade Parks offers a diverse roster of nationally recognized retailers including Homegoods, Michaels, Ulta Beauty, Dick's Sporting Goods, Total Wine & More, Cinépolis and many more. From fashion to lifestyle, the Property's assortment of offerings has further established Glade Parks as a one-stop destination for the surrounding community.
This acquisition is the fourth for Big V Property Group in Texas and the first in the Dallas.
About Big V Property Group
Big V Property Group owns and operates 54 neighborhood and community shopping centers totaling over 9 million square feet, primarily located in the southern region of the US. Big V Property Group has five offices with major offices in Charlotte, NC, San Antonio, TX, Bristol, TN and Florida, NY. For further information, please visit www.bigv.com.