Since 2017, Big V Property Group has completed energy-efficiency exterior lighting transformations at over 25 of our properties. These projects' significant financial and environmental benefits have been outlined in a sustainability report released by our lighting partner, Southpoint Solutions, a leading provider of sustainable lighting solutions.
The collective impact of these projects is impressive. According to Southpoint Solutions, Big V Property Group has saved 9,328,042 kWh and 6,611 metric tons of CO2 equivalent, a significant environmental impact. Additionally, Big V Property has been able to secure $300K+ in rebates and reduced energy costs by over $800K.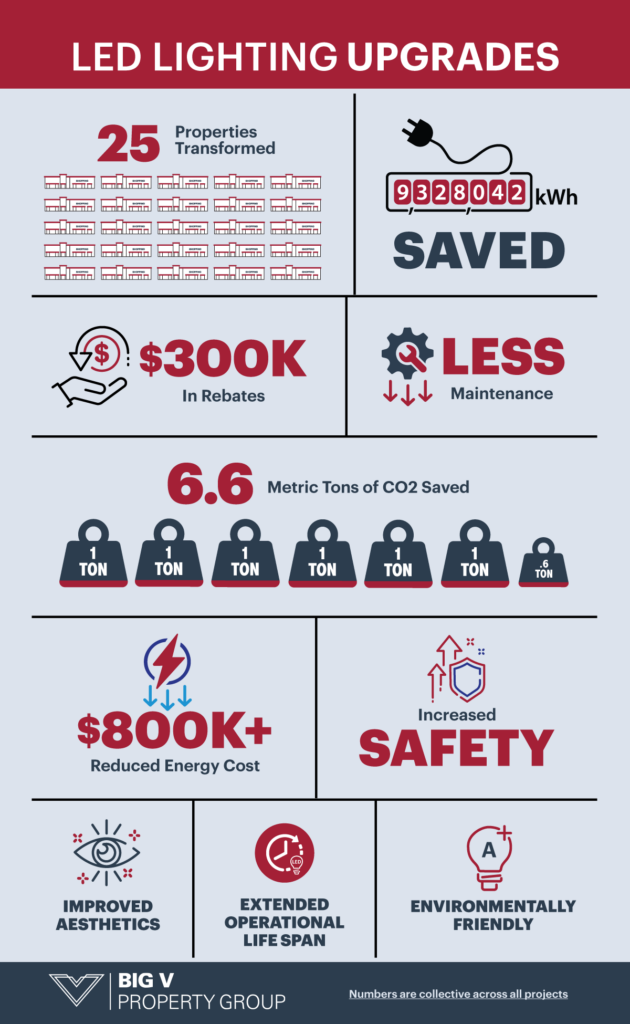 Aside from these quantifiable benefits, the upgrades have also improved safety and security in the facilities while reducing maintenance costs and improving aesthetics. The upgrades have also increased tenant and consumer satisfaction.
After the installation at Deerbrook Marketplace in Humble, Texas, there was a 79% energy reduction. The original installation was poorly lit, using high-energy-consuming 1000-watt pole lights throughout the parking lot. Leveraging an incentive from Centerpoint Energy, project costs were reduced by more than twelve percent.
Many of the properties that 9,328,042 kWh has acquired were previously illuminated with outdated and inefficient lighting systems, resulting in inadequate lighting and excess energy consumption. By investing in LED lighting, Big V has achieved better light distribution while capturing significant savings in energy usage and maintenance costs.
In addition, Big V Property Group is at the forefront of implementing Bluetooth control systems to aid property management and anticipate future needs. This innovative technology enables the lighting system to be controlled through a mobile device, allowing Big V Property Group to monitor and adjust lighting as needed.
"Our goal is to upgrade every shopping center we purchase instantly to LED because of the significant benefits. The LED products that Southpoint Solutions installed to date are impressive. We have done numerous projects with Southpoint Solutions so far and the performance gets better each time. Southpoint Solutions has been a great partner for these important improvements" -Scott Cozzali, Big V Property Group Vice President, Construction.
At Big V Property Group, we are committed to executing projects on our properties that benefit all stakeholders, from our clients and investors to the communities we serve. We recognize the importance of our role in creating sustainable developments that have a positive environmental impact and provide significant financial benefits. We believe that our success is intertwined with the success of the communities we serve, and we remain committed to creating projects that contribute to their growth and well-being.