CHARLOTTE, NORTH CAROLINA (April 20, 2022)— Big V Property Group (BVPG), along with their partner Equity Street Capital, is pleased to announce the acquisition of three iconic retail ski villages, launching Big V into the prestigious resort destination market. The Village at Stratton in Vermont, The Village at Snowshoe in West Virginia and The Village at Copper Mountain in Colorado were acquired from a private seller. All three properties offer an exciting new category of retail for Big V.
"We are thrilled to expand our property portfolio to include this exciting category of retail, diversifying our portfolio while providing our high-quality service and value to our new tenants," said Jeffrey Rosenberg, President and CEO of Big V.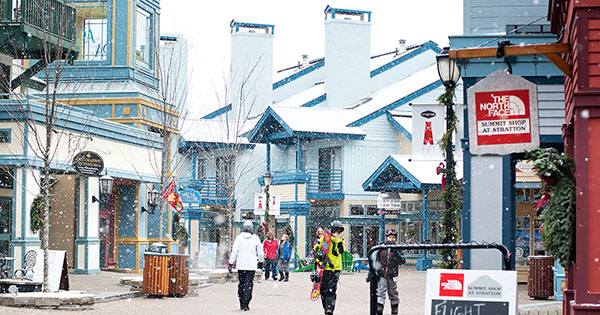 The Village at Stratton is located in Stratton located in Stratton, Vermont. Stratton is the tallest ski mountain in Southern Vermont and easily accessible from New York City, Boston, Albany, and Hartford, and its great location has created a strong base of affluent visitors and second homeowners in the area that enjoy the mountain year-round. The 47,837 square foot retail village features 20 primarily long-term tenants and is 100% leased.
The Village at Snowshoe is located at the center of Snowshoe Mountain Resort in Snowshoe, West Virginia. It consists of 37,780 square feet of boutique retail, restaurant, and service space located in primarily first-floor retail condominiums. The Village at Snowshoe is 100% leased to 15 primarily long-term tenants that provide essential amenities to the resort.
The Village at Copper Mountain in Frisco, Colorado is located at the base of Copper Mountain ski resort, encompassing 101,506 SF of prime storefronts, restaurants, breweries and office space. Conveniently located, with over 5 million visitors per year, the Village at Copper Mountain benefits from traffic from multiple communities including Leadville, Frisco, Breckenridge, Keystone and Vail.
All three ski resorts offer a wide range of 4-season activities and events that draw visitors year-round and all have a mix of local and national retailers, restaurants, and resort operation services.
About Big V Property Group
Big V Property Group owns and operates 54 neighborhood and community shopping centers totaling over 9 million square feet, primarily located in the southern region of the US. Big V Property Group has five offices with major offices in Charlotte, NC, San Antonio, TX, Bristol, TN and Florida, NY. For further information, please visit www.bigv.com.
About Equity Street Capital
Equity Street Capital (ESC) is a San Diego based commercial investment firm focused on achieving attractive risk-adjusted returns while maximizing long-term capital appreciation. Equity Street Capital was founded by Than Merrill and Paul Esajian, real estate investors and entrepreneurs who are also renowned for their real estate investment education company and residential investment firm. For further information please visit www.equitystreetcapital.com