Purchase marks Big V Property Group's first asset in Arizona
Big V Property Group, along with their partner Equity Street Capital, is pleased to announce their newest acquisition, Lake Pleasant Pavilion in Peoria, Arizona. Lake Pleasant Pavilion is a 178,403 square foot destination shopping center ideally located at Peoria's "Four Corners" just outside of Phoenix. This will be the first property in Arizona for Big V Property Group.
"The Arizona market is a target market for Big V, and this represents our first acquisition in the Phoenix area. We look forward to expanding our presence in this dynamic growth market," said Jeffrey Rosenberg, CEO.
Located at the intersection referred to as Peoria's 'Four Corners', Lake Pleasant Pavilion is in an ideal location surrounded by nearly every facet of retail including Home Depot, Kohl's, Lowe's and shadow-anchored by Super Target. The property benefits from attractive demographics with a population of 157,547 earning an average household income of $109,860 within a 5-mile radius.
Approximately 88% of the tenants at Lake Pleasant Pavilion are national tenants including Marshalls, Bed Bath & Beyond, Downeast Home & Clothing, BevMo!, Tilly's, Kirkland's, Anytime Fitness, McDonald's, Starbucks, and more.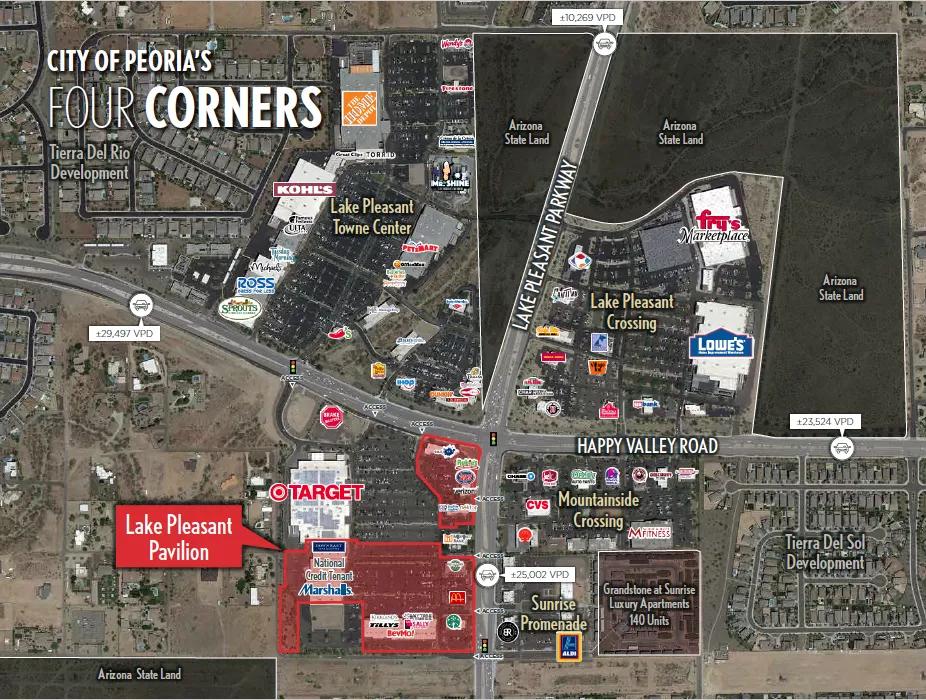 About Big V Property Group
Big V Property Group owns and operates 55 neighborhood and community shopping centers totaling over 9 million square feet, primarily located in the southern region of the US. Big V Property Group has five offices with major offices in Charlotte, NC, San Antonio, TX, Bristol, TN and Florida, NY. For further information, please visit www.bigv.com.
About Equity Street Capital
Equity Street Capital (ESC) is a San Diego based commercial investment firm focused on achieving attractive risk-adjusted returns while maximizing long-term capital appreciation. Equity Street Capital was founded by Than Merrill and Paul Esajian, real estate investors and entrepreneurs who are also renowned for their real estate investment education company and residential investment firm. For further information please visit www.equitystreetcapital.com
For Acquisitions & Investment information, please contact
Ryan Fabbri
rfabbri@bigv.com
(423) 534-4603
For Leasing information, please contact
Greg Ix
gix@bigv.com
(980) 475-2049